Tips To Help You Prepare for Your Physician Job Search While in Residency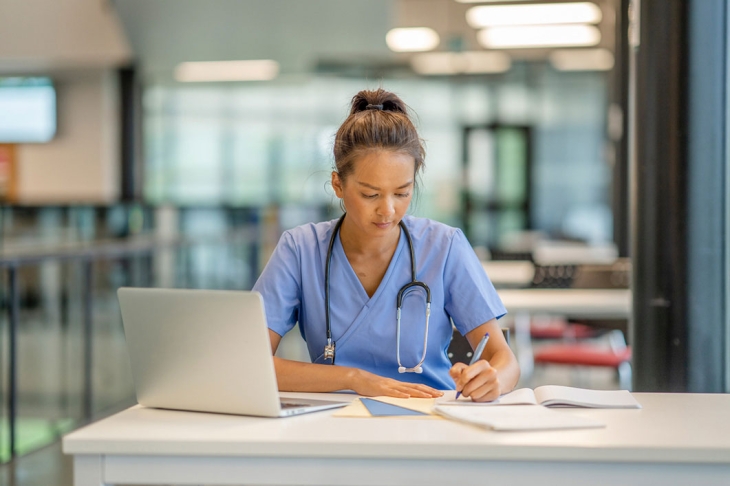 Summary:
Congratulations on reaching this exciting phase of residency and embarking on your physician job search! As you prepare for the next chapter, reflect on what truly matters to you, such as salary, work-life balance, community and support. Find an environment that aligns with your values and growth goals to secure a job that brings satisfaction and success. In this post, we offer practical advice to maximize your job search experience and prepare you for diverse job opportunities. Stay focused and positive, and your journey to finding a physician job will be fulfilling and rewarding!
Table of Contents
Evaluate Compensation Beyond the Basics
It's important to know there are plenty of physician job options out there! Full-time, part-time and locum tenens positions all have their own unique benefits, so it's worth taking a closer look at each. Be sure to pay attention to the salary or hourly rate and check for any additional perks like loan forgiveness programs. For example, if you work full-time for a nonprofit health system or in an underserved area, you may be eligible for the Public Service Loan Forgiveness Program. Keep an eye out for this in job descriptions or ask potential employers about it.
Work-Life Balance, Community Preferences and Patient Population
Location plays a pivotal role in your job satisfaction. Think about your preferences — do you thrive in a vibrant city, bustling with specialized opportunities and ample resources, or do you find fulfillment in a rural community that nurtures versatile skills and community engagement? Consider factors like climate, culture and the demographics of the patient population too.
Assess Health System Support and Policies
When you're choosing a physician job, consider the level of support, resources and policies the health system offers. This can have an impact on your daily experience as a physician. Imagine this: in a smaller, private practice, you might need to handle safety protocols solo, but in a larger health system, they'd have a whole team dedicated to these tasks. Take the time to find the perfect fit for you where you'll have the support you desire.
Tailor Your Work Environment to Thrive
Finding your ideal work environment is vital for both your career and personal happiness. Some people thrive with the freedom and flexibility of a small practice. Others find joy and fulfillment in the excitement and abundant resources of a big hospital. Remember, the size and dynamics of the hospital, clinic or specialty group you choose can shape your daily work experience.
Consider Intangible Priorities
When you're considering which physician job offer to accept, don't forget to consider the intangible priorities. These subtle factors can take your job satisfaction to the next level, but they don't always make it into the job description. Here are some helpful tips to add to your job selection process:
Organizational Values: Ask about the values held by the health system you're applying to and how they align with your own.
Supportive Work Culture: Inquire about the community and the unique qualities of the faculty or staff where you would be working.
Administrative Tasks and Flexibility: Understand the level of administrative support available and how it will affect your workflow.
Innovation in Healthcare: If you're interested in working with modern technologies or techniques, ask about opportunities for innovation.
Schedule Flexibility: Understand the shift schedule, on-call hours and holiday time associated with the job.
Professional Development Opportunities: Explore the career growth pathways available within the organization.
Professional Independence: Determine the level of autonomy you want in your day-to-day work life.
It's time to pursue your dream physician job! Think of all the exciting possibilities: a career that aligns with your values, work culture and professional goals. Take a thoughtful approach to your job hunt and you'll be well on your way to success. Best of luck in your search!
Physician Job Search FAQs
What factors should I consider when searching for a physician job?

Look for opportunities that align with your personal and professional needs. Start by considering your long-term goals and values. Ask yourself questions such as:

What type of practice setting do I prefer?
Which medical specialties or subspecialties interest me the most?
Do I prefer a rural or urban location?
What are my preferred work hours and patient load?
What is my desired compensation and benefits package?

Once you have a clear understanding of your preferences, you can utilize DocCafe's search filters to narrow down opportunities based on specialty, location and other criteria.

How can I effectively organize my physician job search?

Organizing your job search can save you time and help you stay on top of your applications. Start by creating a spreadsheet or using DocCafe's MyJobs feature to keep track of the positions you are interested in, application deadlines, contacts and any follow-up actions needed. Additionally, consider setting up alerts with DocCafe to stay informed about new job opportunities that match your criteria.

When considering a physician job, what aspects of employer support and policies should I consider?

When searching for the ideal physician job, it's important to ensure you and your potential employer are on the same page. Take the time to explore the health system's support, policies, resources, work culture, support staff and innovative tech that could potentially improve your daily practice. Don't forget to inquire about career growth opportunities too! Also try to connect with current or past employees to get a real-world perspective on the job. Gather as much information as you can to make an informed decision and embark on an exciting career journey.

How can I evaluate compensation for physician jobs?

Knowing how you'll be rewarded for your work is important in your physician job search. It's all about understanding your worth and embracing your professional value. Start by doing some research on industry trends and regional factors specific to your specialty. You'll want to consider things like salary, incentives, benefits, work-life balance and any opportunities for personal growth.

When you're chatting with potential employers, don't hold back! Highlight your experience, skills and what makes you stand out from the crowd.

How can online platforms assist me in my physician job search?

Online platforms like DocCafe can streamline your physician job search and boost your chances of finding the perfect opportunity. Here's how they can help:

Extensive Job Listings: Digital platforms offer a wide range of job listings, including full-time, locum tenens and telehealth roles. You can easily refine your search based on specialty, location and other criteria to view open positions.
Customized Job Alerts: Stay in the loop with personalized email alerts that notify you about new positions that match your preferences.
Networking and Insights: Engage with experienced professionals in various medical fields through online platforms. Participate in discussions, ask questions and share experiences to expand your professional network and gain valuable guidance.
Enhanced CV Visibility: Some digital platforms allow you to upload your CV to a professional profile, increasing its visibility to potential employers. This improves your chances of attracting relevant job opportunities.
Resources and Guides: Access a wealth of resources, guides and articles on these technology-driven websites. They cover different aspects of the job search process, providing you with valuable information to make well-informed decisions throughout your job search journey.

By utilizing DocCafe's services and resources, you can streamline your job search process and increase your chances of finding the ideal physician job opportunity.
Resources
U.S. Department of Education. (n.d.). Public Service Loan Forgiveness. StudentAid.gov. Retrieved from https://studentaid.gov/manage-loans/forgiveness-cancellation/public-service