A Guide to Physician Job Search & Salary Negotiation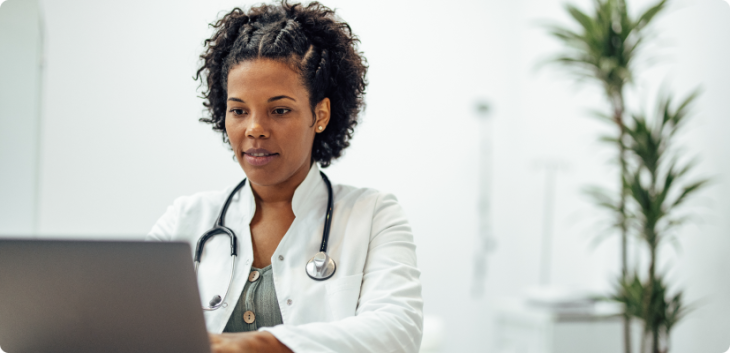 Summary:
It's not news to anyone that finding your way to a great job can be tough, even for doctors. At DocCafe we're all about making your journey easier, so we've made this comprehensive guide to give you all the information and resources you need to make smart decisions on your road to the ideal position.
Table of Contents
Overview of the Physician Job Market
There are a lot of opportunities for you to make a significant impact on the healthcare industry. According to the Association of American Medical Colleges (AAMC) there will be a large shortage of primary care and specialty physicians by 2034, creating a high demand for qualified professionals like you. Employment for physicians and surgeons is projected to increase by 3% from 2021 to 2031, resulting in an average of 23,800 job openings per year over the next decade.
The healthcare industry is going through major changes in how care is delivered. Outpatient care is on the rise, offering benefits such as convenience, cost savings and faster recovery times. Healthcare organizations are expanding outpatient facilities to keep up with demand. Telemedicine is also experiencing rapid growth, with nearly one in five Americans using it. This gives you the chance to provide remote healthcare services to those in need.
Physician burnout is still a concern with long hours, paperwork and heavy patient loads taking a toll. However, healthcare organizations are stepping up to the plate, implementing support programs, offering several types of employment models and promoting work-life balance to tackle burnout head-on.
Staying informed and adapting to regulatory changes, including policies, reimbursement models and quality standards, can help you deliver top-notch care and stay compliant. Here are some valuable resources to help you stay informed of the physician job market:
AAMC (Association of American Medical Colleges): Visit their website for reports, research, and publications on physician workforce and job market trends.
Medical professional organizations: Join relevant medical organizations or associations that provide insights, resources, and networking opportunities specific to your specialty.
Industry publications and journals: Read industry publications like Medscape or JAMA Network to stay updated on the latest trends, research and advancements.
Finding a Job After a Physician Residency
Identifying Your Career Goals and Priorities
As you gear up to find that ideal physician job, now's the time to reflect on your career goals, values and priorities. What kind of practice setting resonates with you? Is it the academic scene, private practice or maybe a hospital-based environment? Think about the patient population you're passionate about serving and consider your desired work-life balance.
Building Your Professional Network
Networking is key when it comes to finding job opportunities. Reach out to colleagues, mentors and professionals in your field. Attend conferences, join professional associations and make the most of platforms like DocCafe to expand your network. Engaging with peers and industry leaders not only gives you valuable insights and referrals but also builds a sense of community among healthcare professionals.
Creating an Impressive CV and Cover Letter
Your CV and cover letter are like your personal marketing tools. They represent your accomplishments, skills and qualifications. Make your CV stand out by highlighting your unique attributes and show how they match the qualifications of the positions you're looking for. Keep your cover letter concise and engaging. Use it as a chance to show your skills and how you're a great fit for the organization.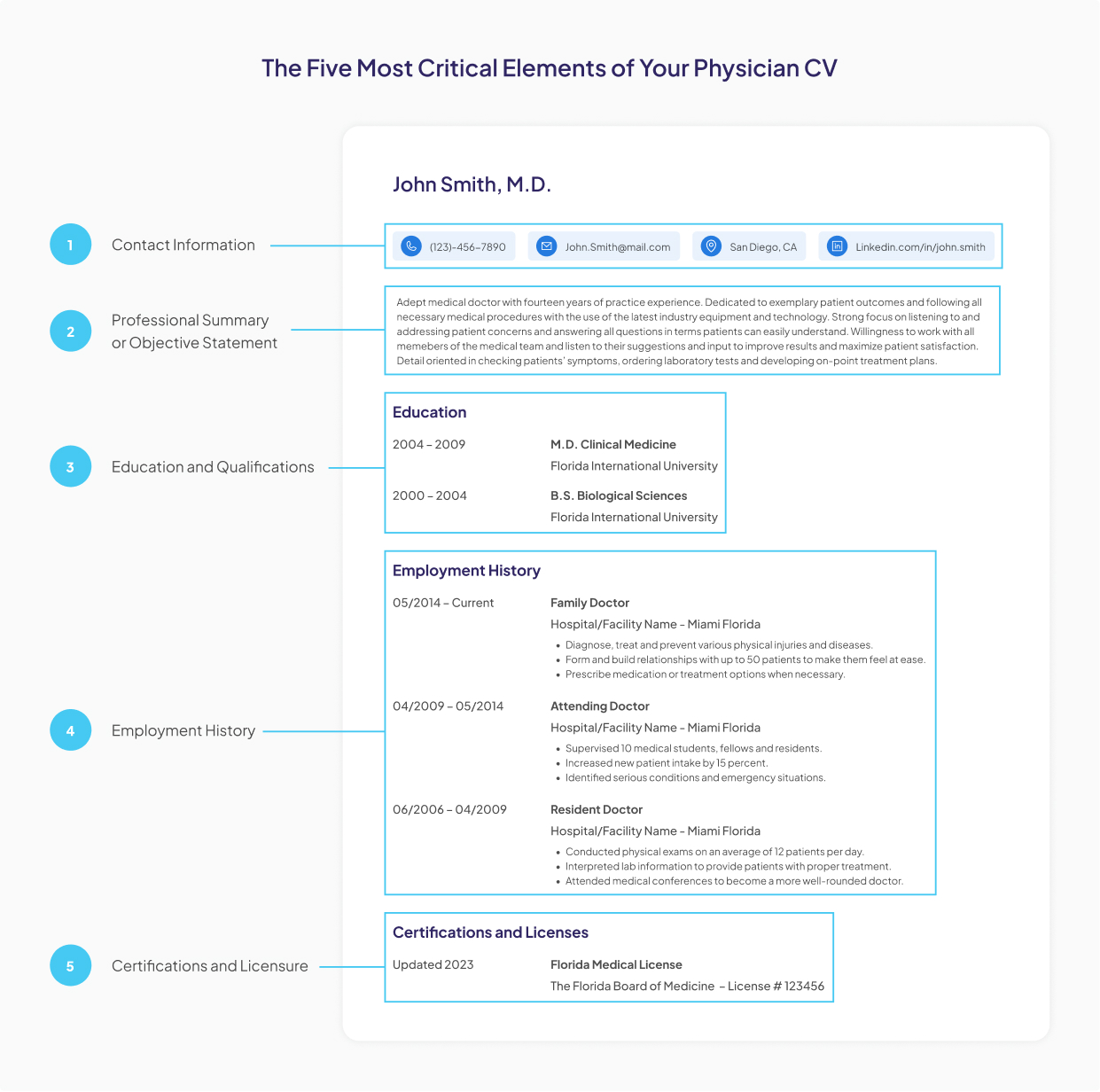 Physician Job Search Strategies
Exploring Multiple Job Opportunities
When it comes to your job search, explore a variety of opportunities and consider different practice settings, locations and employment models like full-time, part-time or locum tenens positions. Keep those options open and see where your career can take you.
Utilizing Online Job Boards
Check out online job boards that are tailored for physicians, like DocCafe. You can easily browse through job openings, upload your CV and connect with top employers in the field.
Engaging With Physician Recruiters
If you're looking for some extra support in your job search, connect with physician recruiters. They can be your guides in navigating the job market, share valuable insights about compensation trends and connect you with organizations actively seeking talented physicians.
Evaluating Physician Job Offers
Understanding Compensation Structures
Take the time to get familiar with different compensation structures like salary, productivity-based models and incentives. Look at the details such as base salary, bonuses, benefits (think health insurance and retirement plans), paid time off and malpractice insurance coverage. By understanding these components, you can make sure that you're fairly rewarded for your work.
Evaluating Non-Financial Factors
As you explore different job opportunities, make sure to prioritize things that bring you job satisfaction and overall well-being. When assessing potential options, consider aspects like the following:
Organizational culture
Growth opportunities
Work schedule flexibility
Call schedule
Available support systems
By finding a job that offers a healthy work-life balance, you can thrive in a fulfilling work environment.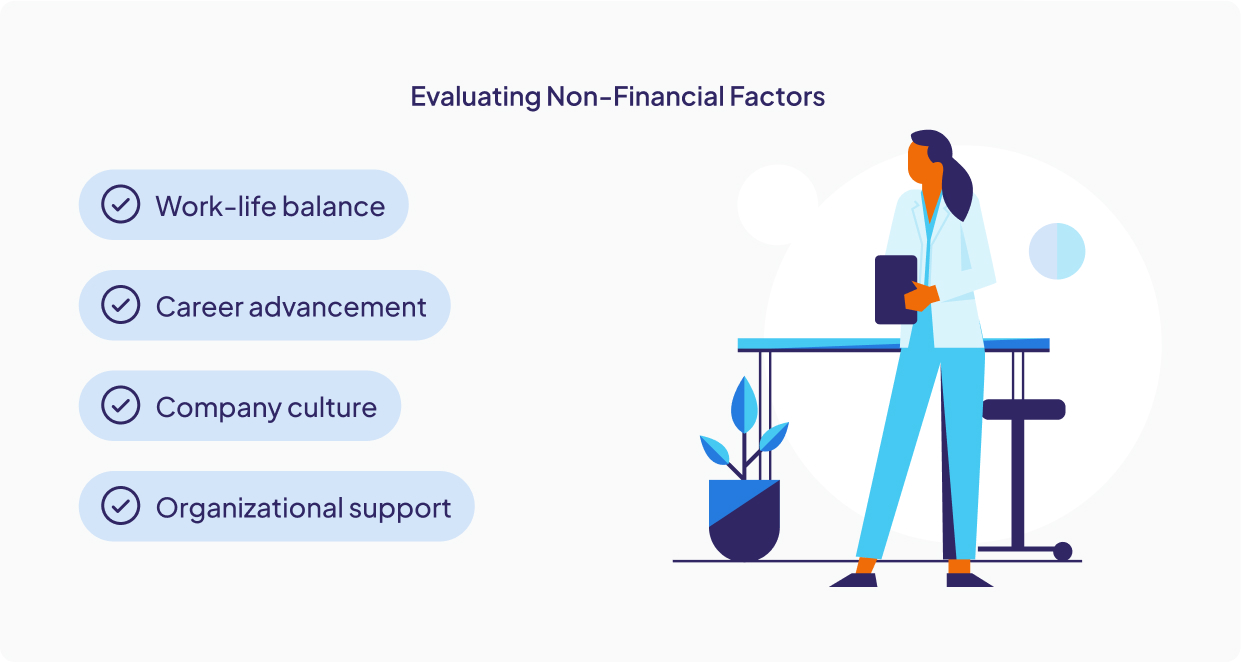 Negotiating Your Physician Salary
Researching Salary Data and Market Trends
When it comes to negotiating your salary, research salary data and market trends that are specific to your specialty, where you'll be located and the type of practice setting you'll be in. Tap into resources like industry surveys, salary databases, and professional associations to gain valuable insights into the general compensation ranges.
Understanding the Components of a Compensation Package
Familiarize yourself with the components of a compensation package beyond the base salary. These components may include:
Productivity bonuses
Signing bonuses
Relocation assistance
CME allowances
Retirement benefits
Insurance coverage
Developing Effective Negotiation Skills
Sharpening your negotiation skills is important when it comes to effectively advocating for your interests. Be prepared to articulate your value, skills and accomplishments while discussing your desired compensation.
Dr. Austen Slade, MD, MBA, is an experienced urologist specializing in HoLEP, PCNL and mini-PCNL procedures. With a fellowship in endourology from Indiana University, where he was recognized as a top 19 research scholar, Dr. Slade supports and guides new medical students in urology research projects at the University of Indiana. Drawing from his experience, he offers valuable insights on the negotiation process for graduating students, highlighting two common pitfalls to avoid.
The first pitfall is getting too fixated on a specific location or practice, which can cause you to miss other options within your network or the chance to work with a reputable recruiter. While it's great to have a strong preference, it's wise to have a backup plan or a "best alternative to a negotiated agreement" (BATNA) that you can rely on and use to support your negotiations.
The second pitfall is closely related to the first and involves being too quick to accept an offer that may not align with your expectations or avoiding negotiations altogether to avoid rocking the boat. It's crucial to seek legal counsel or seek input from mentors to ensure that you're comfortable with the offer presented. Remember, it's okay to advocate for yourself and make sure you're getting a fair deal.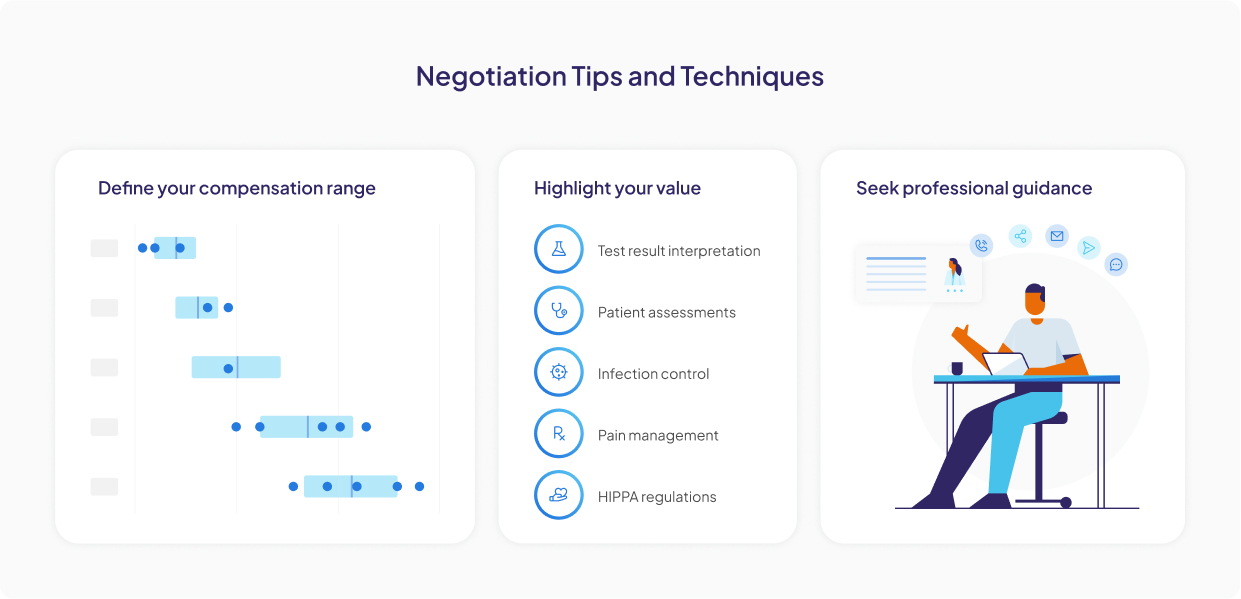 Post-Negotiation Considerations
Reviewing the Final Offer
Before making any final decisions, take the time to carefully review the offer you've received. Go through the compensation package, benefits and the contractual terms. This is your chance to make sure everything lines up with your expectations and the agreements you reached during negotiations. If there's anything that's unclear or causing concern, don't hesitate to seek clarification before putting pen to paper.
Contract Review and Legal Assistance
It's a good idea to work with a healthcare law specialist who can review your employment contract. An attorney can help you navigate the ins and outs of the contract, offering expert advice on crucial areas like non-compete clauses and termination provisions. Be proactive and discuss any non-negotiable aspects with your employer. This will allow focused discussions with the attorney, prioritizing the essential matters and avoiding unnecessary back-and-forth.
Managing Relocation and Transition
If you're starting a new job that requires you to move, be sure to plan. Consider things like finding housing, transportation, family needs and any new license requirements in a new location. Creating a solid transition plan will make it easier for you to finish your current tasks and have a smooth start in your new position.
Conclusion
Navigating the job market and negotiating your salary as a physician can be exciting and daunting at the same time. At DocCafe, we're here to support you every step of the way. By staying up-to-date with the current job market, preparing effectively, using smart job search strategies, carefully evaluating offers, and honing your negotiation skills you'll be well-equipped to secure a rewarding position that aligns perfectly with your goals and aspirations. Remember, we're here to provide you with the information and guidance you need, so you can prioritize your long-term career satisfaction. You've got this!
Navigating the Current Physician Job Market and Negotiating Your Physician Salary FAQs
FAQ 1: What are the current trends in the physician job market?

Some current trends include an increasing demand for primary care physicians, growth in telemedicine opportunities, a shift towards value-based care, and an emphasis on work-life balance.

The ongoing impact of global events such as the COVID-19 pandemic are also shaping the demand and supply in the physician job market. Changes in healthcare policy and government regulations may increase the need for certain specialties or shift focus towards different areas of healthcare.

FAQ 2: How can I effectively search for physician job opportunities?

You can start by exploring online job boards and physician-specific job websites. Additionally, networking with colleagues, attending medical conferences, and reaching out to professional associations can provide valuable leads.

FAQ 3: Should I work with a physician recruitment agency or search independently?

It depends on your preferences and circumstances. Recruitment agencies can help in finding suitable job opportunities, negotiating contracts and providing guidance throughout the process. However, some physicians prefer to conduct an independent job search.

FAQ 4: How can I stand out as a candidate in a competitive job market?

Building a strong professional network, keeping an updated CV, and showcasing relevant experience and skills are essential. Consider pursuing other certifications or fellowships to enhance your qualifications. It's also important to prepare for interviews and effectively communicate your strengths and career goals.

FAQ 5: What should I consider when evaluating a job opportunity?

Factors to consider include location, compensation and benefits, work schedule, patient population, organizational culture, career advancement opportunities and support for continuing medical education. It is important to find a job opportunity that's aligned with your personal and professional goals.

FAQ 6: How can I negotiate my physician employment contract?

Before negotiating, thoroughly research average compensation packages in your specialty and geographic area. Identify your priorities and discuss them openly with the employer. You can also seek legal advice or use the services of a contract review specialist to ensure you understand the terms and conditions.
References
Association of American Medical Colleges. (2019). Complexities in physician supply and demand: Projections from 2019 to 2034. https://www.aamc.org/data-reports/workforce/data/complexities-physician-supply-and-demand-projections-2019-2034
ValuePenguin. (2022, March 8). 22% of Americans Using Telehealth in 2022 — Here's Where They Use It Most and Why It's Here to Stay. Retrieved from https://www.valuepenguin.com/telehealth-use-study
Search Jobs Now