The Importance Of The Exit Interview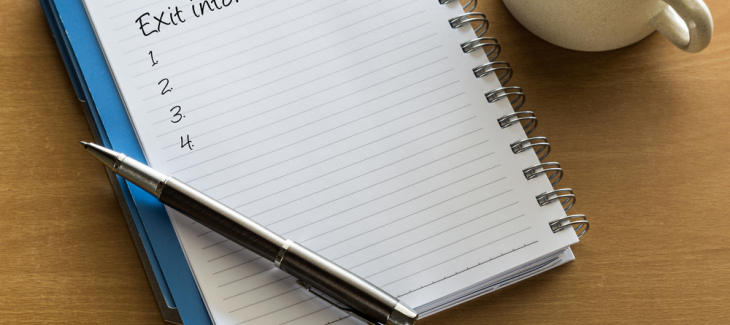 Frequent turnover in a department or organization can lead to lost productivity, low morale, and extra workload for those hiring and orienting new employees. Good organizations hope to retain their talent and ensure that the workplace is positive and productive. Therefore, it is imperative that organizations conduct exit interviews with a genuine interest in improving working conditions, in order to attract the best talent.
Yes, your Human Resources department likely already has an exit interview on the docket. However, other individuals in the department or organization, may consider scheduling an exit interview with your departing employee as an experience that allows both parties to part ways on good terms. The exit interview can also provide strategic insight into the organizations' strengths and areas of opportunity.
The Society for Human Resource Management recommends that exit interviews are comprehensive, done in person, and are approached with the mindset that the organization is continually improving. While the primary goal of the exit interview is to gather employee feedback, the employer should also give the exiting employee a chance to discuss any major concerns related to the workplace, or prospective legal problems that are on their mind.
Additionally, it is important to determine who will conduct the exit interview. If you're hoping to gather honest feedback about an employee's supervisor or manager, it may be best to consider having someone other than that individual conduct the interview. Alternatively, your department or organization may consider having a multimodal approach to exit interviews, by having multiple interviews with different question content in each interview.
Remember, the employee is likely going to prepare constructive and positive remarks in order to maintain relationships and reflect a good reputation. An equal amount of preparation and a professional approach to the exit interview should also be taken from the employer's end.
Here are a few questions that can be used during the exit interview:
Why are you leaving?
What were your expectations of this position when you started?
What are the realities of this position?
What do you believe are the strengths of the organization?
Given unlimited resources, what would you suggest our organization pursue next?
What will you tell others about our organization?
What could we have done to retain your talents?
What else would you like us to know?
To ensure that your exit interview time was time well spent, generate an action plan following your meeting to act upon the information provided during the exit interview. According to one article in the Harvard Business Review, it is estimated that only one third of companies surveyed followed up on the valuable information conferred during the exit interview. The exit interview provides a timely and informational opportunity to take actions, which may retain existing talent.