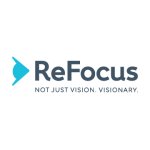 ReFocus Eye Health
ReFocus Eye Health
Stamford

,

Connecticut

,

United States
Stamford

,

Connecticut

,

United States
Company Information
Trust your vision to visionary experts.
We're at the forefront of eye health — and we've saved a place for you.
ReFocus Eye Health is a rapidly-growing world-class network of eye health practices in the Northeast.

We have a passion for improving healthcare by streamlining and building the management systems to support our providers. Our objective is to work with you to help you become the best practitioner you can be.

ReFocus doctors and staff have access to:
A collaborative work environment
Opportunities for personal & professional growth
Room for advancement
Comprehensive health benefits, including vision and dental, 401k plan with company match, and short/long term disability
...and more
Uniquely structured for success, our goal is to harness collective partner power. We want our physician partners and clinical support staff to provide the highest quality eye care — and that means supplying them with the support they need to be successful.
Our practices are close to vibrant, exciting cities - Boston, New York City and Philadelphia. If you crave culture, great restaurants, sports teams, shopping and all the amenities of a big city you are in luck. The neighborhoods around our practices are top notch with great housing options, good schools and lovely towns.
Meet the doctors who already joined the ReFocus network:

"One of the best parts of being on the ReFocus team is the true spirit of collaboration among the other doctors and with management. We communicate openly, and everyone's input is encouraged." — Richard S. Casden, M.D., F.A.A.O.

"ReFocus understands the value the doctors and staff bring and are truly committed to excellence." — Stephen Soll, M.D., F.A.C.S.

"What I enjoy most about working with ReFocus is the shared vision of an effective and streamlined approach to eye care." — Paul E. Masi, M.D., F.A.C.S.



Ready to see your future through a new lens — we look forward to speaking with you!