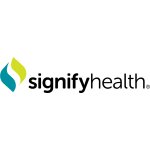 Signify Health
Signify Health
* Mission-driven: Help transform healthcare and provide a better experience for patients by keeping them safe and healthy in their homes.
* Scheduling flexibility: Set the schedule that fits your needs and lifestyle, working full-time or part-time, Monday through Sunday, 8 a.m. to 7 p.m.
* Low stress, low risk: Practice medicine in a low stress, low risk environment that includes malpractice insurance.
Dallas

,

Texas

,

United States
Dallas

,

Texas

,

United States
Company Information
Looking to make a meaningful impact on healthcare outcomes? Signify Health connects health plan members directly with clinicians for personalized In-home Health Evaluations. Our clinicians help people gain a more comprehensive view of their health while enjoying a rewarding, convenient, and flexible work experience.
Our nurse practitioners, PAs, and physicians spend time one-on-one with Medicare Advantage, Medicaid, and certain commercial plan members in the comfort of the members' homes. These evaluations include a medication and medical history review as well as a physical exam.
Company History
Signify Health, a CVS Health Company (NYSE: CVS), is a leading healthcare platform that leverages advanced analytics, technology, and nationwide healthcare provider networks to create and power value-based payment programs. Our mission is to build trusted relationships to make people healthier. Our solutions support value-based payment programs by aligning financial incentives around outcomes, providing tools to health plans and healthcare organizations designed to assess and manage risk and identify actionable opportunities for improved patient outcomes, coordination and cost-savings. Through our platform, we coordinate what we believe is a holistic suite of clinical, social, and behavioral services to address an individual's healthcare needs and prevent adverse events that drive excess cost, all while shifting services towards the home.