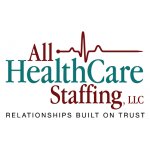 All HealthCare Staffing, LLC
All HealthCare Staffing, LLC
Our proven process driven approach to staffing allows us to match top tier medical professionals with the right client opportunities. We take the time to clearly understand and document the requirements from both clients and candidates to ensure a good outcome for everyone involved. We will be with you, side by side, throughout the hiring and credentialing process. This promises a professionally rewarding and effortless experience for all.
Clarkston

,

Michigan

,

United States
Clarkston

,

Michigan

,

United States
Company Information
All HealthCare Staffing, L.L.C. specializes in the recruitment and placement of physicians, dentists, physician assistants, and allied health professionals in permanent, part-time, and temporary (locum tenens) positions. Our management team has over 75 years of experience working with nationally renowned medical centers, large healthcare systems, community hospitals, clinics, medical groups, and private practices nationwide.
Company History
The company was formed by two individuals who each have over 25 years of successful health care staffing experience. Through long-term relationships built on trust we have been able to expand our operations with the addition of other healthcare professionals and programs. All HealthCare Staffing, LLC is a Women and Minority Owned small business with the ability to service clients located throughout the United States.