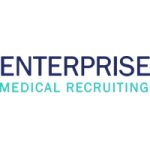 Enterprise Medical Recruiting
Enterprise Medical Recruiting
Our physician search experience gives us the expertise to represent you in a professional and efficient manner.
Dallas

,

Texas

,

United States
Dallas

,

Texas

,

United States
Company Information
Enterprise Medical Recruiting, a member of the National Association of Physician Recruiters, is a full service physician consulting and recruitment firm specializing in medical practices.

Our protocol is to discuss what your priorities are in making a practice decision prior to any presentation of opportunities. Then, we will present only opportunities in which you will have a legitimate interest. We have found this approach to be the most effective use of the physician's time by eliminating opportunities that do not meet the specific requirements.

Enterprise Medical Recruiting will provide you with full disclosure of the detailed information about the practice, the community and the people involved. This means the interview will be a confirmation of facts, not a discovery process. We can assist you in the interview arrangements and contract negotiations, protecting your confidentiality throughout the process. All fees involved are paid by our clients and not by you, the physician.

Company History
Working with hospitals, clinics, and physician groups since 1990, Enterprise Medical Recruiting has established itself as a premier provider in the development and delivery of practicing physician recruitment and retention strategies.

In August of 1993, Neal Fenster acquired full ownership of Enterprise Medical Recruiting. Neal has over 20 years of direct physician recruiting experience. Neal acquired this organization for a few different reasons. First, he was a very good and successful recruiter under a restricted environment on the retained side. Secondly, E.M.R., which was initially a very successful organization, was experiencing difficulty due to poor management and they saw this as an excellent opportunity to utilize their recruiting and business knowledge in a better surrounding.

Over the years, the firm has grown to employ seventeen full-time successful physician recruiters with more than 200 years experience in physician recruiting. The majority of our consultants come from a retained background, which allows us to be more aware of our clients' needs and affords us the knowledge of taking a "team approach" to recruiting. As a part of that continued growth, E.M.R. has added a physician executive search division to provide clients with a full scope of physician recruiting services.