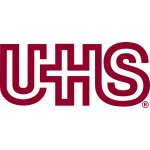 Universal Health Services
Universal Health Services
While the healthcare industry remains a place of rapid change, with our strengths, experience and foresight to chart our own course, UHS has every reason to face the future with optimism.
King Of Prussia

,

Pennsylvania

,

United States
King Of Prussia

,

Pennsylvania

,

United States
Company Information
Universal Health Services, Inc. (UHS) is one of the nation's largest and most respected healthcare management companies. Our principal business is owning and operating, through our subsidiaries, acute care hospitals, behavioral health centers, surgical hospitals, ambulatory surgery centers and radiation oncology centers nationwide and in Puerto Rico. Founded in 1978 by Alan B. Miller, CEO and Chairman of the Board, our facilities now employ more than 38,000 people.

The UHS business strategy is to build or purchase healthcare properties in rapidly growing markets and create a strong presence based on exceptional service and cost control. Our success comes from a responsive management style, continuity of senior management and a service philosophy based on quality healthcare at affordable cost, competence and integrity.