10 Trends in Healthcare for 2022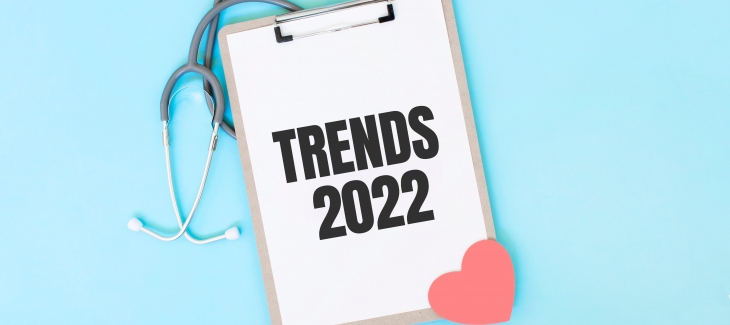 As the healthcare industry gradually emerges with caution, into a post-pandemic world, there is a perceptible change in the outlook of key players, which promises transformative change. Industry leaders are now looking at ways to get ahead of the curve, both in profitability and healthcare service delivery, in 2022.
Here are 10 growing trends expected to transform the healthcare industry in 2022.

1. Collaborate with Industry Partners
The pandemic highlighted the struggles that health systems faced in providing financially draining services, like basic primary care, simple diagnostic services, and management of chronic diseases. Health care organizations, both public and private, saw the benefit of tying up with companies like
CVS and Walmart
, who now offer these services, with profitably and relative ease. Increased partnership with traditional retail companies has also helped to fill the gap inpatient services and delivery of care, at a lower cost, as witnessed during vaccination drives, and medication delivery.

2. Social Engagment
Recent data has revealed that
5% of all Google searches
are health-related and
94% of healthcare patients
use online reviews to evaluate their medical providers, from hospitals and clinics to physicians. As the medical industry embraces the power of the world wide web, going forward, healthcare organizations should get comfortable educating and engaging with their patients where they are now most often found – online!

3. Post - Pandemic Preparedness
The 2020 pandemic taught hard lessons and has made players in the healthcare industry more vary in what the future may bring. They have taken steps to ensure efficient production of medications, emergency supplies, and improved research trials for novel treatments or vaccines. Studies conducted by PwC estimated that
87% of pharmaceutical and life science companies
are currently working on virtual drug trials that make the process more efficient and greatly improved in racial diversity.
4. The Focus on Mental health.
A 2021 survey finds provider burnout, disengagement, and shortage of health care professionals as the most potentially disruptive issues facing hospitals and health systems in the next 3 years" -
AMN Leadership Solutions
Healthcare organizations have become more cognizant of the need for mental health services for their employees and are making strides in keeping a pulse on staff burnout.

5. The Rise of Home-based Care
The home care delivery market has traditionally been made up of fragmented companies, independent operators, affiliations with corporate
healthcare providers. However, the increased demand for these services due to COVID 19, will lead to heavy investments in
franchising of home healthcare chains in 2021
.
The services delivered will also see some variety with on-demand companionship services, physician-led house calls, transportation assistance, and nutritional support, also offered, as a growing elderly population chooses to
age in place.
6.
The Focus on Early Screenings
According to the
Kaufmann Hall National Hospital Flash Report,
people are avoiding routine and elective procedures resulting in an 86- 94% decrease in screenings for breast cancer, colon cancer, and cervical cancer. This impacts patient outcomes considerably as diseases progress without early diagnosis and interventions. In the coming years, there is a need to focus on preventive measures once again, to prevent another health crisis.

7. Healthcare goes virtual
While telemedicine does have its
pros and cons,
the convenience that
virtual visits
or online consultations allow, is difficult to ignore. A study by Deloitte estimated that virtual physician visits will increase from 1% in 2019 to almost 5% in 2021.
While 5% may not sound like much, consider that 8.5 billion doctor's visits, worth a total of approximately US$500 billion, took place in the Organisation for Economic Co-operation and Development (OECD) 36 countries in 2019 alone. Five percent of that would translate into more than 400 million video visits and about US$25 billion in value." –
Deloitte

8. Increased healthcare spending – Money Talks!
Reports estimate that the national
healthcare expenditure (NHE) is estimated to be
around $6.2 trillion by 2028
. Public health experts are looking for ways to provide value-based services that counteract those increasing numbers. Policy workers are working towards price transparency, equitable healthcare, and negotiated price controls for insurance-based care. While it's a step in the right direction, the inherent complexity of the market at present ensures that the road to the effective policy change will be difficult.

9. Healthcare Analytics
Data is becoming the "currency of tomorrow" in all fields… and healthcare is no exception. Large organizations are making big investments in both the technology and manpower needed to monetize the use of Big Data. Analysts and information officers in healthcare are valued predictors of performance as they improve productivity while enhancing patient care and focus on funding for key programs. The use of evidence-based lean management is expected to go a long way towards better services, with the healthcare analytics market expected to
grow to US$24.55 billion by 2021.

10. Strengthening Supply Chains
After experiencing supply chain shortages and disruptions during the pandemic, a majority of pharmaceutical and life sciences companies are expected to invest heavily in predictive modeling to address gaps and process failures in the future
. A McKinsey report
states that this move will take the industry away from their dependence on historical demand, and tweak their algorithms to work towards future forecasts, keeping the "worst-case scenario" in mind.
These trends are poised to become disruptors in the healthcare industry, as we move on to a post-pandemic landscape. As is true for most things in life, the only constant changes. The challenges and the victories faced by the medical market, in the coming years, are left to be seen!